Ensuring a Secure Future at Every Life Stage
In an increasingly uncertain world, estate planning is a critical component of financial security that should be noticed, regardless of your age. Many people mistakenly believe that estate planning is something only the elderly or the wealthy should concern themselves with. However, this couldn't be further from the truth. Estate planning holds immense importance for every age group, and we'll explore why in this article.
Building Wealth and Protecting Assets: The Foundation of Financial Security
Estate planning goes beyond drafting a will or creating trusts; it's about ensuring the protection of your assets and the financial security of your loved ones. According to a survey by Caring.com, nearly 60% of Americans don't have a will or any estate planning in place. This lack of preparation can have devastating consequences, as the distribution of assets may not align with your wishes or your family's needs.
Key Points:
Estate planning helps you decide how your assets will be distributed, reducing the potential for family disputes.
It allows you to minimize tax liabilities and maximize the inheritance left for your loved ones.
Protects your assets from creditors or lawsuits.
Ensuring Healthcare and End-of-Life Wishes: A Compass for Medical Decisions
Estate planning encompasses more than just financial matters; it addresses your healthcare and end-of-life preferences. A National Institute on Aging report reveals that over half of Americans still need advance directives for healthcare. Estate planning enables you to designate someone to make medical decisions on your behalf and outline your treatment preferences.
Key Points:
Healthcare proxies and living wills can ensure your wishes are respected if you become incapacitated.
Estate planning can help avoid family conflicts and difficult decisions during times of crisis.
It provides peace of mind knowing your healthcare and end-of-life choices are documented.
Protecting Your Loved Ones: Securing the Future of Your Family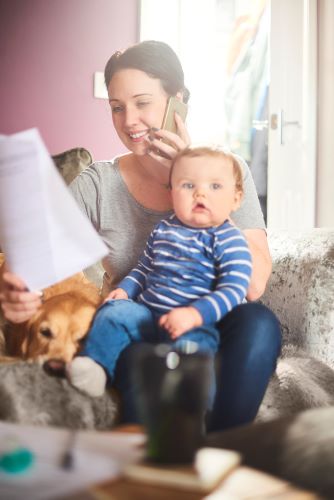 Estate planning is a way to safeguard your family's future, especially if you have dependents. In the event of your untimely passing, your estate plan can provide financial support and stability for your loved ones. A study by New York Life found that 35% of households would face financial hardship within one month of the primary wage earner's death.
Key Points:
Estate planning includes naming guardians for minor children ensuring their care and upbringing align with your values.
Life insurance and trusts can provide a financial safety net for your family.
It avoids the lengthy and costly probate process, allowing your loved ones to access assets quickly.
Adapting to Life's Changes: A Dynamic and Ongoing Process
Estate planning is not a one-time task; it's a dynamic process that should evolve with your life. As circumstances change, your estate plan should reflect these adjustments. A study conducted by WealthCounsel and Trusts & Estates magazine found that 92% of estate planning professionals believe clients should review their plans every 2-5 years.
Key Points:
Marriage, divorce, the birth of children, or changes in financial status should prompt updates to your estate plan.
Estate planning can also involve establishing trusts for specific purposes, such as education or charitable giving.
Regular reviews ensure your estate plan remains aligned with your goals and desires.
Secure Your Future with Dishowitz Law
Estate planning is not a matter of age but responsibility and foresight. Regardless of where you are, it's crucial to take the necessary steps to protect your assets, healthcare decisions, and the future of your loved ones. By planning your estate today, you can guarantee peace of mind for you and your loved ones, no matter what tomorrow may bring. Dishowitz Law is here to help you navigate the complexities of estate planning, ensuring your wishes are met and your family's future is secure. Don't wait; secure your future now.
Call Dishowitz Law at (855) 236-3474 or visit https://dishowitzlaw.com/contact/ to request a free, private case review today.
About Dishowitz Law
Dishowitz Law provides counsel to hundreds of individuals, families, and businesses involved in complex legal disputes, including estate planning, probate, estate disputes, general litigation, and landlord-tenant law. For more information, call 1 (833) 918-3310, email bdishowitz@sflalaw.com, or visit https://dishowitzlaw.com/contact/.